Reporting Complexity: A Study Tour in the U.S. for Journalists from Central and Eastern Europe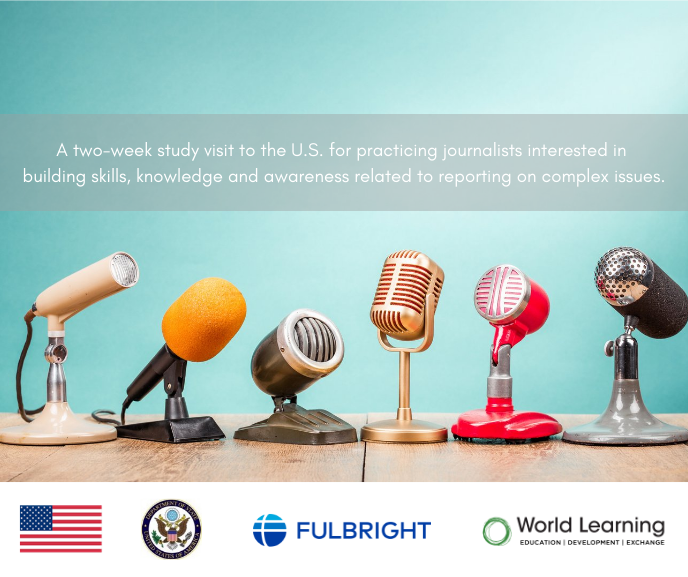 The Romanian-U.S. Fulbright Commission together with Fulbright Commissions based in Bulgaria, Czech Republic, Hungary, Poland and Slovak Republic invites practicing journalists to apply for a two-week study visit in the U.S. aimed at building skills, knowledge and awareness related to reporting on complex issues. The visit will be organized in October 2022 (tentative dates: October 15-October 29, 2022).*
*Please note: the exact dates will be confirmed after selection. Should health, safety, and travel conditions continue to pose significant challenges due to the COVID-19 pandemic, we reserve the right to postpone or cancel the study tour.
Recruitment criteria & eligibility:
Practicing journalists with a minimum of one year of professional journalism experience in any type of media (print, broadcast or digital).
Journalists from Romania, Albania, Bulgaria, Czech Republic, Hungary, Kosovo, Moldova, Montenegro, Poland, Republic of North Macedonia, Serbia, and Slovak Republic are eligible to apply.
Applicants with English command at a minimum B2 level can apply.
Applicants with strong professional background in the field, demonstrated through recent work samples (in English or local language).
All else being equal, preference is given to journalists focusing on science reporting, public health, economics and other data-heavy fields.
Learning objectives:
to acquaint participants with the scope of explanatory journalism in the U.S., offering tools and strategies for developing such stories in a fact-based, ethical way;
to learn about and discuss issues related to countering disinformation, oversimplification, and ethical concerns surrounding complex topics (such as public health issues, climate change, economics, legislation, voting technology, etc.);
to reflect upon relevant U.S. best practices and have the chance to work with counterparts in U.S. institutions to hone skills for evidence-based quality journalism;
to encounter relevant knowledge from other disciplines about how users absorb complex subjects and to experiment with different ways of delivering critical background knowledge;
to discuss current challenges in the media landscape and become familiar with the latest developments in the field through meetings with acknowledged journalists and representatives of media companies.
The program of the visit is expected to feature:
Travel to several locations in and around Washington D.C. and New York City;
Custom professional workshops delivered by Poynter Institute for Media Studies;
Meetings and discussions with experienced journalists and media representatives who have relevant experience and portfolios;
Visits to media organizations of interest;
Workshop on Issues in Science Reporting, with the Executive Editor of Herald Community Newspapers group;
Highlights

*

expected to be included: visits and discussions with practitioners and representatives from ProPublica, PBS-Public Broadcasting Service, Vox, Washington Post, International Center for Journalists, Solutions Journalism Network, Poynter Institute for Media Studies, New York University's Carter School of Journalism.
*Please note: we do not guarantee meetings with entities explicitly named here. Efforts will be made to secure the specified meetings but in some cases suitable alternatives may be arranged. The final program will be tailored to the specific needs of the recruited group.
The program is offered free of charge and with the following costs covered by the organizers: insurance, visa costs, flights to/from the U.S. and local travel in the U.S., hotels, meals and incidental expenses while in the U.S. Participants are required to cover local transportation costs in their own countries if necessary, personal expenses and miscellaneous.
To apply for the study tour,
please fill in the online application form linked below