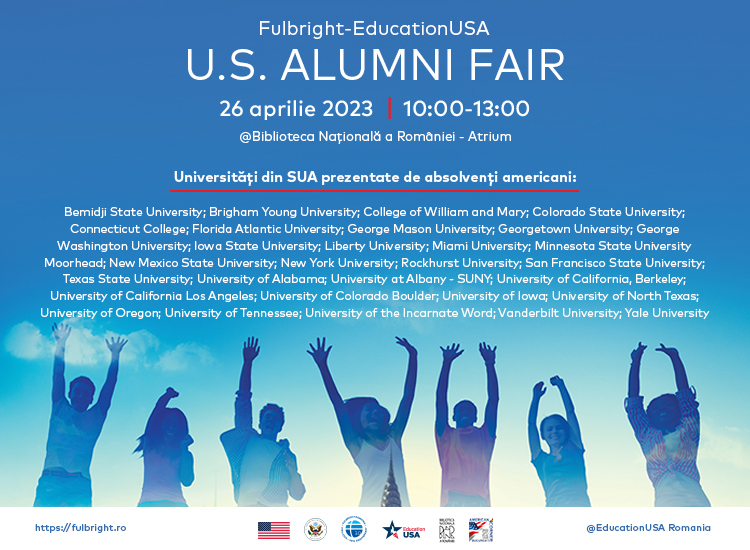 The 2023 edition of the U.S. Alumni Fair will take place at the National Library of Romania (22 Unirii Blvd. – Atrium), on Wednesday, April 26, from 10:00 a.m. to 1:00 p.m., with the support of the U.S. Embassy in Bucharest. The fair is included among the events marking the 30th anniversary of the Romanian-U.S. Fulbright Commission.
This edition of the U.S. Alumni Fair will bring together 29 participants – mainly members of the U.S. Embassy in Bucharest and U.S. Fulbright grantees currently in Romania – as representatives of their alma maters, keen to share their personal experience and their insight into the U.S. higher education system with Romanians interested in studying in the U.S.
Colleges and universities represented:
Bemidji State University; Brigham Young University; College of William and Mary; Colorado State University; Connecticut College; Florida Atlantic University; George Mason University; Georgetown University; George Washington University; Iowa State University; Liberty University; Miami University; Minnesota State University Moorhead; New Mexico State University; New York University; Rockhurst University; San Francisco State University; Texas State University; University of Alabama; University at Albany - SUNY; University of California, Berkeley; University of California Los Angeles; University of Colorado Boulder; University of Iowa; University of North Texas; University of Oregon; University of Tennessee; University of the Incarnate Word; Vanderbilt University; Yale University
Entrance is free.